"Driscoll…led Bach's Weimar cantata with interpretive grace, evoking a restrained sound from the full ensemble and skillfully handling the delicate orchestration in the solo movements." Laura Prichard, The Boston Musical Intelligencer, March 26, 2009
Michael Driscoll is Director of Choirs at Brookline High School, a position he has held since September 2003. At Brookline High School he directs three choirs, advises three student-run a cappella ensembles, teaches Advanced Placement music theory and class piano. In the fall of 2013, he was appointed Music Director of the Andover Choral Society based in Andover, Massachusetts. He is the Lead Musicianship Teacher for the Handel & Haydn Society's Vocal Arts Program for children and high school students. With H&H he develops and oversees the musicianship curriculum and trains and supervises the musicianship faculty.
Driscoll was Music Director of Boston Saengerfest Men's Chorus from 2001-2013. For four years he served as Assistant Conductor of the Masterworks Chorale under the direction of Allen Lannom. He has directed the choirs at Emerson College and the University of Massachusetts Dartmouth and has guest conducted Boston's Chorus pro Musica in a program featuring the New England première of Jonathan Dove's Köthener Messe.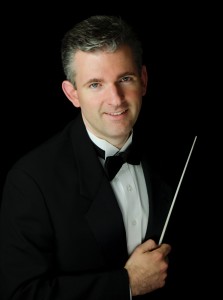 Driscoll is Past-President of the Massachusetts division of the American Choral Directors Association (MassACDA). He served as the Auditioned Choirs Chair for the ACDA Eastern Division's 2016 conference in Boston. He is a passionate advocate for teaching music literacy skills in the choral classroom and has given many presentations on the subject at professional conferences including at MassACDA Summer Conferences, at the ACDA Eastern Division conference, at the Massachusetts Music Educators Association's All-State Conferences and at the National Association for Music Education's All-Eastern conference. He has published two articles entitled "But I Don't Have Time! A Case For Teaching Music Literacy" (part 1 & part 2) in the Mass Music News magazine for music educators throughout Massachusetts. He has been involved with the MMEA Eastern Division as chorus manager of the high school festival and has composed the sight-singing portion of the vocal exam for many years. As a service to other music educators, he provides a number of free music literacy resources on this website.
Driscoll began doctoral studies in choral conducting at Boston University in the fall of 2012 and will complete the doctoral degree in May of 2016. While at Boston University his primary conducting teachers included Ann Howard Jones and David Hoose. Driscoll received his Masters degree in Choral Conducting at the New England Conservatory where he studied with Simon Carrington. Driscoll began conducting as an undergraduate at Worcester Polytechnic Institute (WPI), directing Simple Harmonic Motion, a 14-member male a cappella group, for three years. He was Assistant Director of the WPI Men's Glee Club for three years and directed the WPI Concert Choir for two years. He graduated from WPI in 1997 with a BS in Electrical Engineering and a Minor in Music. He completed his Masters degree in Electrical Engineering at WPI in 1999 and worked as a software development engineer for two years prior to beginning graduate studies in Choral Conducting at New England Conservatory in the fall of 2001.