Dr. Michael Driscoll is Director of Choirs at Brookline High School, a position he has held since September 2003. At Brookline High School, Dr. Driscoll directs three choirs, advises three student-run a cappella ensembles, teaches Advanced Placement music theory and class piano. In the fall of 2013, he was appointed Music Director of the Andover Choral Society based in Andover, Massachusetts. He is the Lead Musicianship Teacher for the Handel & Haydn Society's Vocal Arts Program for children and high school students. With H&H he develops and oversees the musicianship curriculum and trains and supervises the musicianship faculty.
Driscoll was Music Director of Boston Saengerfest Men's Chorus for twelve years. His doctoral dissertation, "Jan Dismas Zelenka's 'Dixit Dominus' Settings Within the Context of the Dresden Hofkapelle," was awarded the American Choral Directors Association's 2016 Julius Herford Dissertation Prize. The review committee for the Herford prize described his dissertation as "a model of outstanding research and presentation," as well as "well-documented and to-be-applauded reasoning." Using his own critical editions, Driscoll has produced the first recordings of Zelenka's Dixit Dominus (ZWV 67) and Zelenka's arrangement of Tomaso Ingegnieri's Dixit Dominus.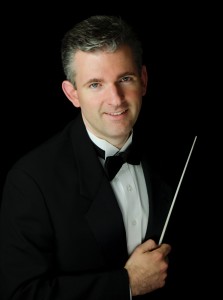 Driscoll is past President of the Massachusetts chapter of the American Choral Directors Association (MassACDA). He is a passionate advocate for teaching music literacy skills in the choral classroom and has given many presentations on the subject at professional conferences including at MassACDA Summer Conferences, at the ACDA Eastern Division conference, at the Massachusetts Music Educators Association's All-State Conferences and at the National Association for Music Education's All-Eastern conference. He has been involved with the MassMEA Eastern Division as chorus manager of the high school festival and composed the sight-singing portion of the vocal exam for many years. As a service to other music educators, he provides a number of free music literacy resources on this website.
Driscoll earned an MM in Choral Conducting from the New England Conservatory and a DMA in Choral Conducting from Boston University. Past conducting teachers include Simon Carrington, Ann Howard Jones, and David Hoose. Driscoll began conducting as an undergraduate at Worcester Polytechnic Institute (WPI), directing a male a cappella group for three years. At WPI he also served as Assistant Director of the WPI Men's Glee Club and Director of the WPI Concert Choir. Driscoll graduated from WPI in 1997 with a BS in Electrical Engineering and a Minor in Music. He earned an MS in Electrical Engineering at WPI and worked as a software development engineer for two years before moving to a career in music.